English listening for Japanese high school students: the Common Test for University Admissions in 2012 DAY 1
These tests are the ones that have been adopted as entrance exams for Japanese national universities.
Part 1
No.1
How many adults are there in the man's group?
1. Two.
2. Three.
3. Four.
4. Five.
---
M: I don't have a reservation, but can I get a table for five?
W: Any children?
M: Yes, two.
W: We have a table for four, but we have chairs for children.
Answer:2
No.2
What will the man look like?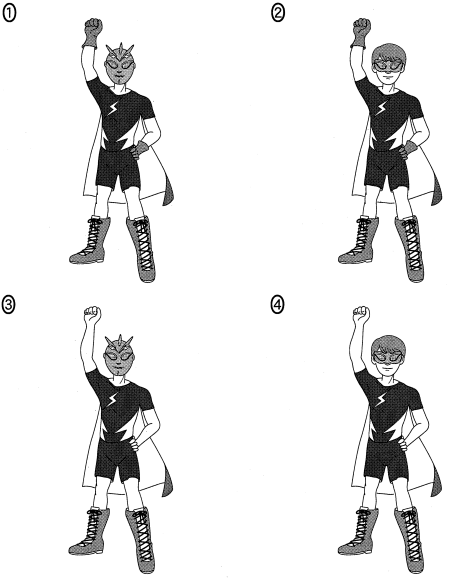 ---
W: You're going to the Halloween party as a superhero?
M: Yeah, I finished making my mask.
W: Does it cover your whole head?
M: No, but I did get long boots and gloves.
Answer:2
No.3
Which girl in the picture are they talking about?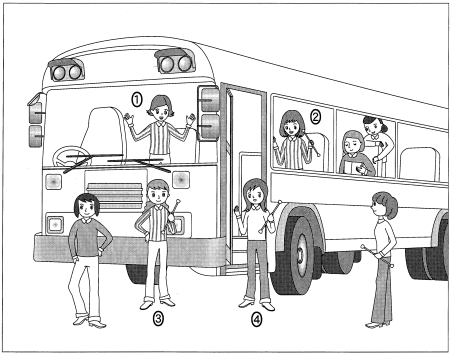 ---
W: Hey. Look at this old picture of my sister on a band trip.
M: Oh, where is she?
W: She's in front of the bus.
M: She looks great in stripes with her baton.
Answer:3
No.4
How does the man feel about his result in the last competition?
1. He is confused.
2. He is disappointed.
3. He is relieved.
4. He is satisfied.
---
W: Are you training for tomorrow's competition?
M: Yeah, I've got to do better. Last time I came in second.
W: That's not so bad.
M: Yes, it is. I want to win this time.
Answer:2
No.5
Which bus does the woman suggest they take?
1. The 3:00.
2. The 3:05.
3. The 3:20.
4. The 3:25.
---
M: Hurry up! It's three o'clock. We'll miss the bus.
W: When's it coming?
M: In five minutes.
W: We can't make it, but the bus comes every twenty minutes.
Answer:4
No.6
Where will the man and the woman meet?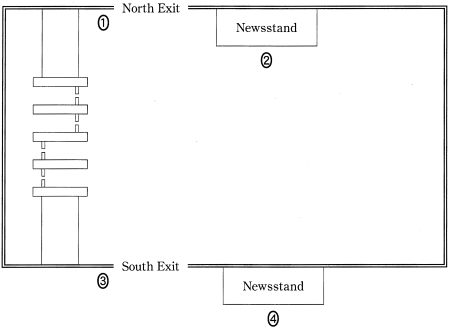 ---
M: Hello, Linda. Where are you? I'm at the station.
W: Me too. I'm at the newsstand inside by the North Exit.
M: I'm at the one outside.
W: OK. I'll meet you there.
Answer:4